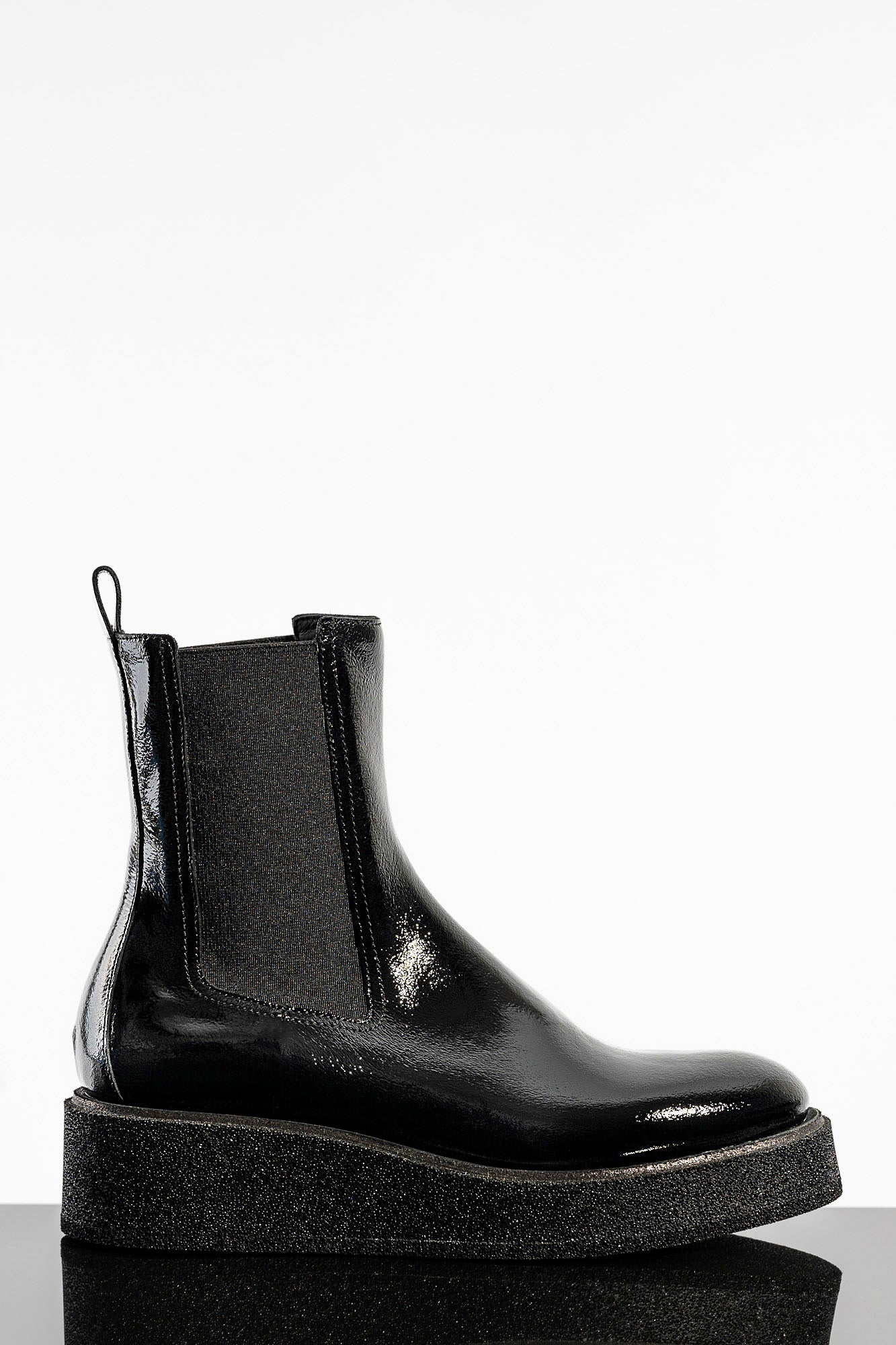 Manila Boot 405 | Black Patent
Description

Product info

Care & Maintenance

Size Guide

Shipping & Delivery
Trendy Chelsea Boot from Italian Del Carlo. Upper in soft black lacquered calf suede. Elasticated sides of the shaft that neatly and comfortably slip around the leg. Pull loop at the back for easy on and off. Padded insole and pacifier leather lining for optimal comfort. Lightweight outsole in durable micro rubber for good grip. Wear with cropped trousers and skort.
Made by hand in Italy.

Slightlysmall in size, choose half a size larger.

Brand: Del Carlo
Country of manufacture: Italy
Colour: Black
Material: Patent calfskin
Lining: Nappa
Sole construction: Fully moulded micro rubber sole - lightweight, comfortable, durable and heat insulating.
Heel height: 5 cm
Sole: 3 cm
Shaft height: 16 cmShaft width
(circumference): 23 cm
Size:
-0,5 Slightly
small in size, choose half a size larger.
Fit: Normal
Product name: 11405 Vetro Nero Manila
Klack: Mäts på baksidan från klackens fäste rakt ned till underlaget skon står på.
Platå/Sula: Mäts på utsidan på sulans bredaste del, från där sulan fäster rakt ned till underlaget.
Skafthöjd: Mäts på baksidan från klackens fäste upp till skaftets slut (vid knävecket).
Skaftvidd - mäts på 2 sätt: 1. Stövlett - Omkrets vid skaftets slut/öppning. 2. Stövel - Omkrets i höjd med bredaste delen på vaden.
Storlek: +/-0 = Normal storlek. -0,5 = Modellen är en halv storlek mindre än normalt, välj om möjligt en halv storlek större, +1 = Modellen är en hel storlek större än normalt, välj en storlek mindre osv.
Passform: Beskriver om modellen är smal, normal eller bred i passformen.
LEVARANSTID 2-3 WORKING DAYS
POSTNORD COLLECT till närmaste ombud - 69 SEK
POSTNORD HOME Hemleverans - 99 SEK

HÄMTA I BUTIK - 0 SEK
DHL SERVICE POINT - 69 SEK
DHL EXPRESS Worldwide - 299 SEK
Leveranstid 2-7 vardagar.
Läs våra fullständiga Leveransvillkor